We are a charity. We rely on funding and your donations to bring our projects to life.
Our way of working touches people in profound ways. We have seen its effect, felt it. We have been invigorated and humbled by it. It has uncovered layers of meaning and resonance that energise sites and give value and confidence to host communities. We need your support…
With your support…
We change lives
We understand the power of our work in building confidence and pride in host communities and individuals. The relationship with the community is honest and clear. We need them to make the work happen. It's a truly authentic partnership. It gives participants a reaffirming experience of art, celebrating what they do, placing their culture, aptitudes and environment centre stage. The experience can open up new pathways for participants to change their lives.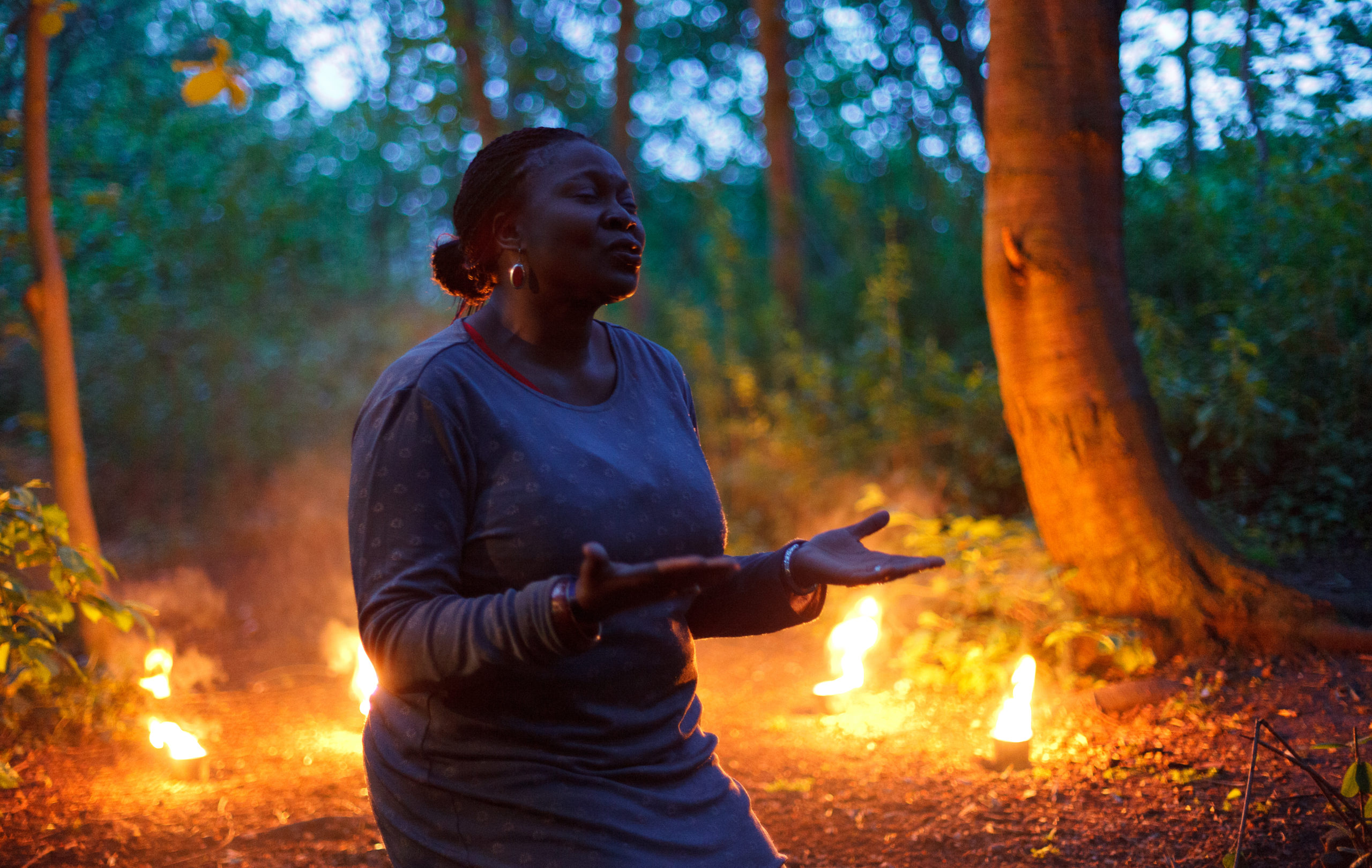 Kemi Lofinmakin - BABEL
Kemi Lofinmakin – BABEL
In 2012 we took up residence in Caledonian Park, London to create BABEL. We worked with many brilliant people from across the city, and Kemi Lofinmakin was one of them. Kemi came on board as a volunteer performer and here she recalls her Babel experience:
"Being part of Wildworks Babel literarily transformed my life! It was after my involvement with Babel that I knew for definite that I didn't want to do anything else in my life but to Create, Write, Act, Perform. Being part of Babel was like having a large family that just played and celebrated a very diverse LIFE! And it was the joy that I got from being part of Babel that made me go to drama school at the tender age of 40 and eventually in 2019 left my corporate job and can now describe myself as a full time Actor and Writer. I would never forget the role that being involved in Babel played in my life."
Kemi Lofinmakin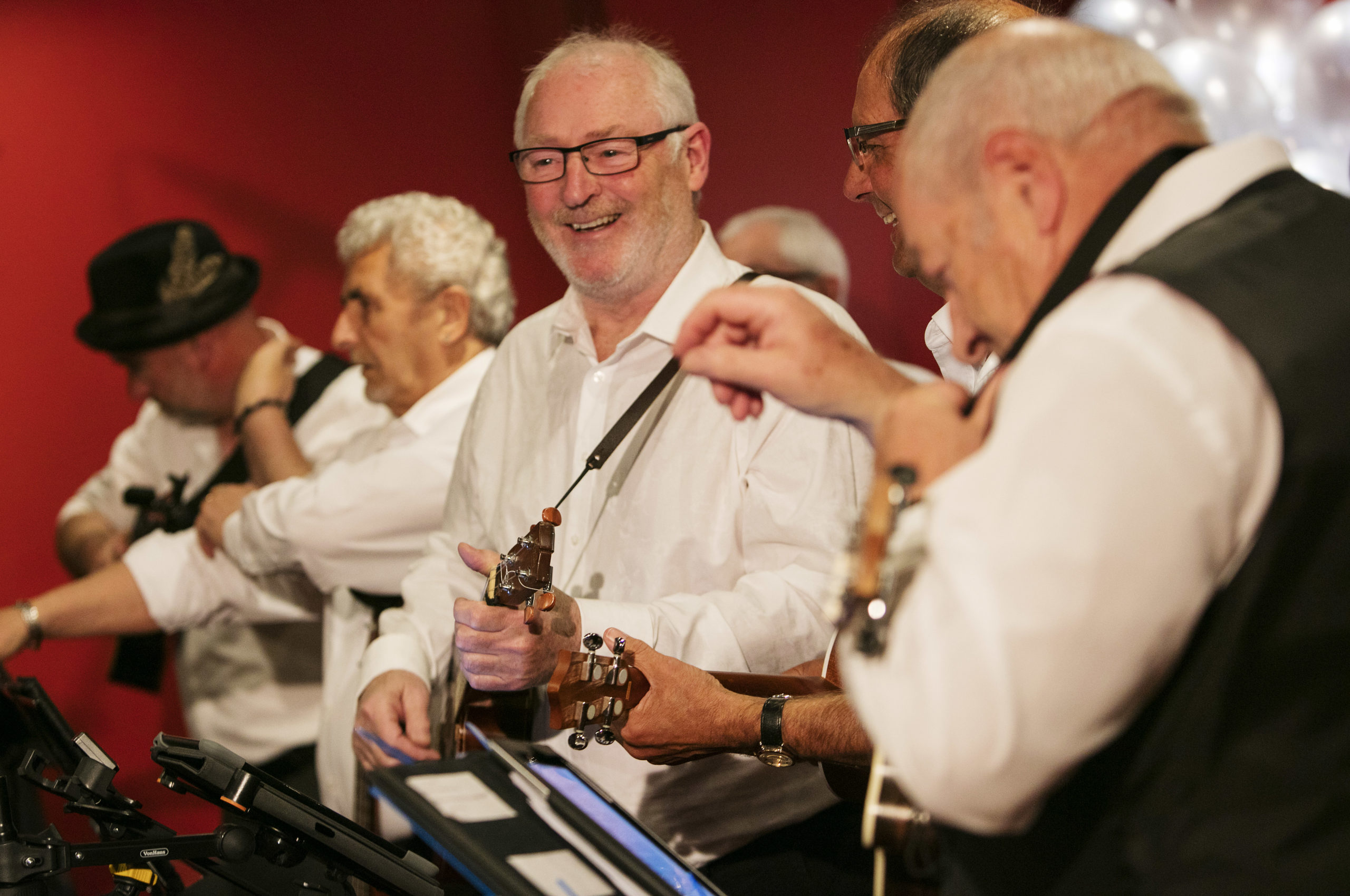 Dennis O'Brien
Dennis O'Brien – A Great Night Out
In early 2016 we nestled ourselves into the heart of Sunderland to create 'A Great Night Out'. Dennis O'Brien's story of heroism was one of many local stories that helped to shape a truly memorable and glittering evening – filled to the brim with local talent. Dennis had been a miner and engineer, but all his life he had harboured a desire to be a musician and performer. Here Dennis reflects on his involvement.
"I could write a book about the last six years, but 'Putting the Band Back Together' and working with WildWorks was my highlight of awesome projects I've been lucky enough to be part of. As I get older, I am busy as a musician in several bands and projects, too many to mention. Out five nights per week unless fatigue takes over. Also out four times per week doing various groups including music/theatre type stuff with people who have survived a stroke. Most rewarding job ever. It may not have happened if I had not met the wonderful people of Wildworks. It changed my life despite me already doing some awesome projects like 'Putting the Band Back Together' and winning an award. Wildworks was big time big stage – and the most amazing director, Bill, and awesome team like Mercedes, Charlie, and choir director Vicky. Special for someone like me who had lived in the shadows of a famous brother – the one and only Billy Elliot character, yes, he was real, and my brother. The memory of having two stories about me on stage is mega. One guy stopped me in a supermarket and said 'I know you from The Point' and then subsequently being interviewed on Radio 4… yes, two people travelled from London to interview me at my house – how does that happen to an ex miner and sea going engineer whose dreams came true?"
"Oh my, did I do all that? And it's still going now, in five groups rehearsing for Sunderland's new fire station music venue, it's amazing. Recently I've been involved in a movie called Artist, Typist, Pirate, King,  playing ukulele as part of the movie. Monica Dolan, Kelly McDonald, Gina McKee, plus award winning director Jane Campion and Carol Morley. What a fantastic experience and honour. We were spotted playing on the sea front outside a local cafe by film researchers. Unbelievable.  Sorry for going on Mercedes but you guys helped me have the confidence to do these things."
Dennis O'Brien, retired miner and engineer, active musician.
We support emerging talent
We believe in supporting and showcasing the next generation of theatre makers, both through internships and through participation in productions. We invest in the mentoring and training of young artists and theatre makers, creating supportive spaces and roles where they can develop their talents and gain experience and confidence working alongside the core Wildworks team.
Ellie Woolman
Ellie Woolman – UnEarth
In 2018 Ellie Mae Woolman  was studying for the final year of her Theatre Degree when she joined the company as assistant producer for 100:UnEarth. This was a large scale production set in The Lost Gardens of Heligan in Cornwall, with multiple stages and a very large company. Ellie Mae thrived in this complex environment and was able to use her own initiative on many occasions, gaining in confidence and know-how. Ellie Mae has worked uninterruptedly in theatre settings and is now Marketing officer at Plymouth Theatre Royal.
You can hear from Ellie in the video above…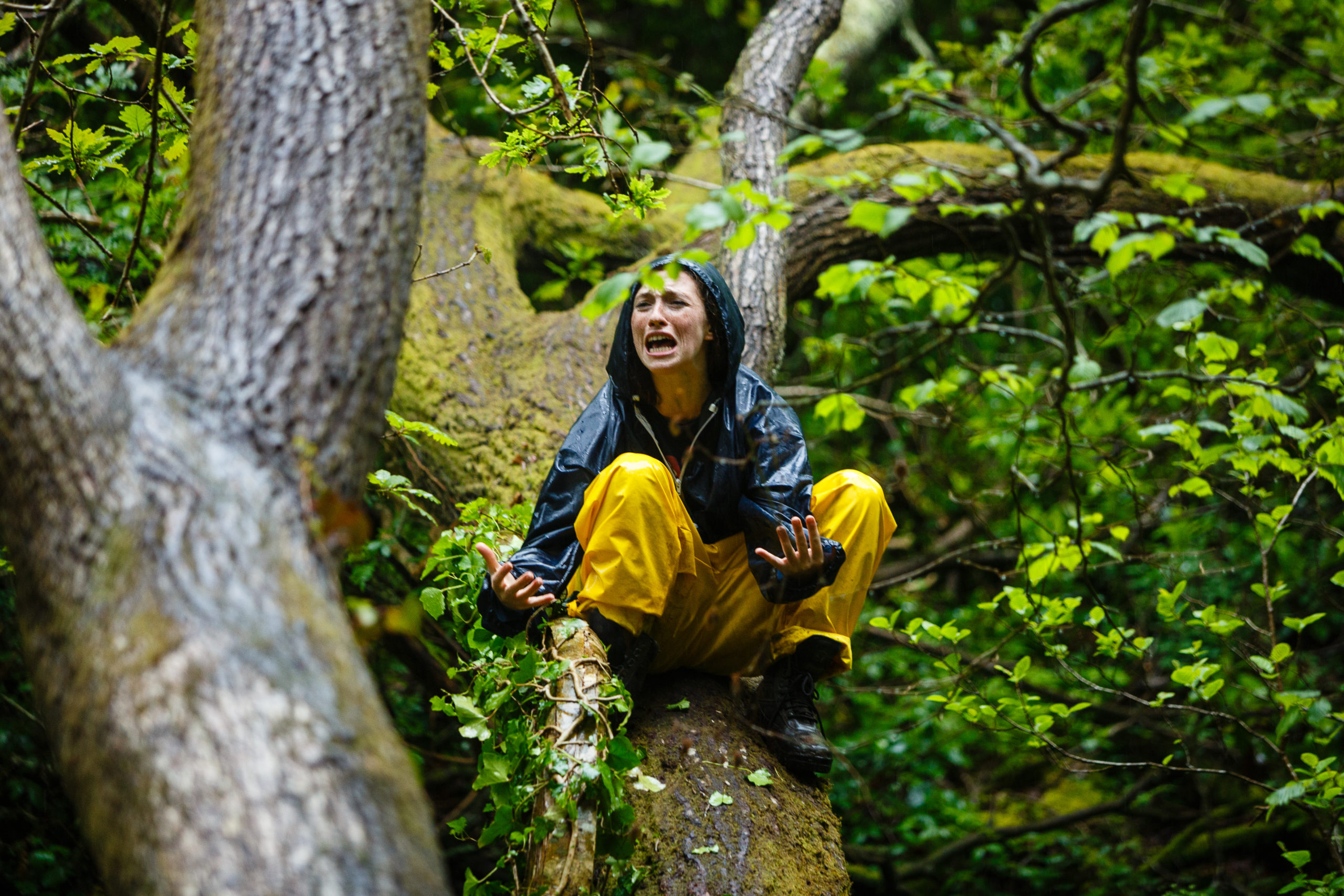 Ellie Bryans
Ellie Bryans – Wolf's Child
Ellie came to us as a member of the National Youth Theatre. The group came to Cornwall to take part in a Summer School. Ellie was cast on a key role in Wolf's Child. Ellie has gone on to have a very successful acting career, appearing on Giri Haj, I May Destroy You, I am and The Lost Daughter.
"Coming out of school I didn't get accepted into drama schools and felt like my path as an actor had come to a stop. A few years later I got into a training with the National Youth Theatre Rep Company in 2014. A major component of this training was spending a week learning from Wildworks – I remember feeling so held and respected; and my views – on ways to create things and ways to tell stories –  massively expanded. It was a real turning point for me as I feel like my confidence was encouraged to grow, and my ability to express myself found different languages. My first professional job after training was in 'Wolfs Child' by Wildworks. The level of care provided to the performers, the audience, the environment and community are second to none, and are at a standard I try to hold myself to and look for in other experiences. Wildworks has definitely shaped who I am as a performer and as a person, and I feel like the good intentions at the heart of it trickle through everyone who comes into contact with it."
Ellie Bryans, professional actor.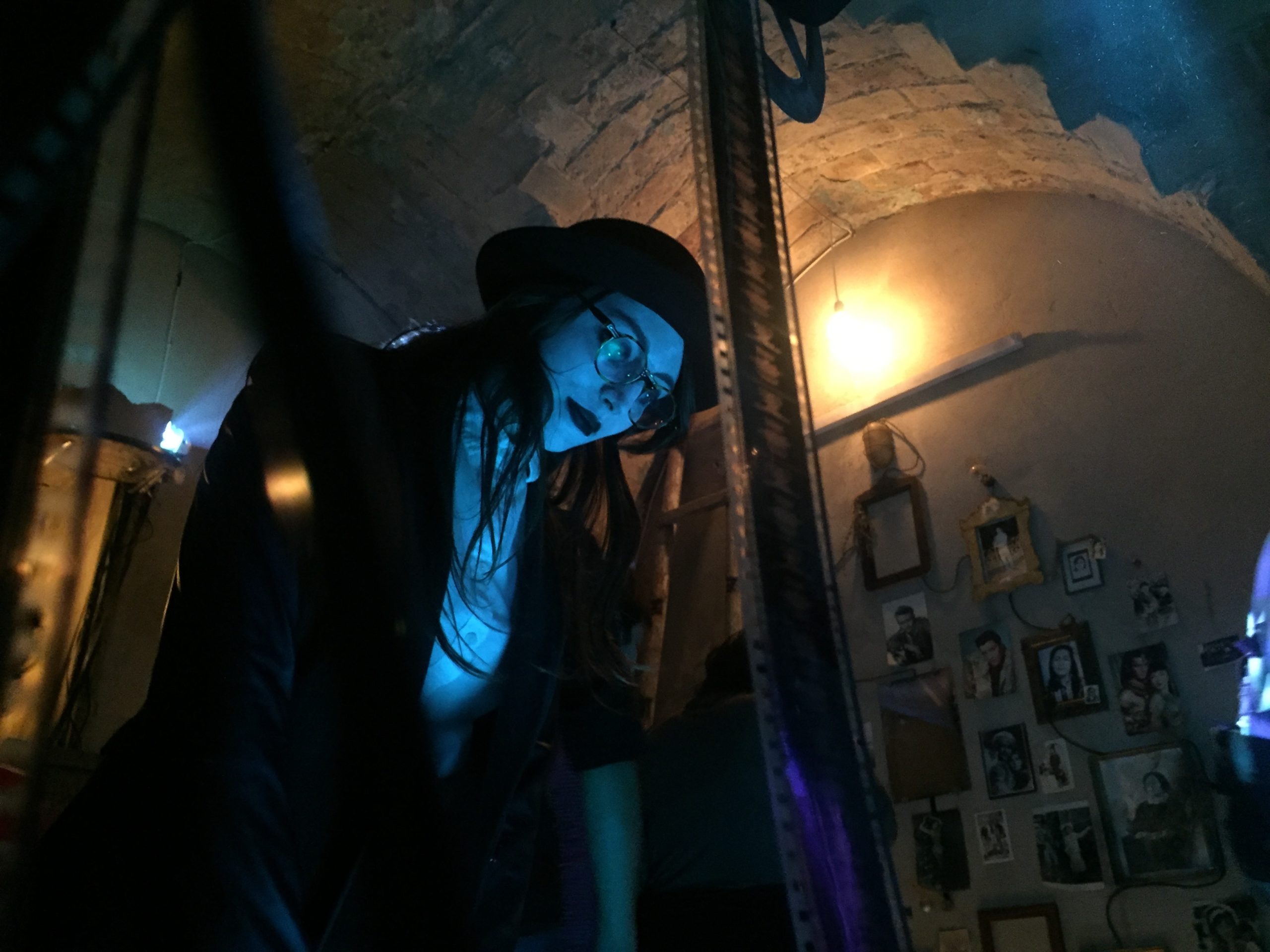 Farah Ben Mansour
Farah Ben Mansour, Artist – Tunis, A Cinema of Dreams
In 2015 we were invited to participate in "City of Dreams" the Tunis Biennale of Art in Public Spaces. A team of 4 artists travelled to Tunis to create a dream cinema that featured a soundscape of memories and a projection of film montages, working with local artists and volunteers, adults and school children. We met Farah, a young Tunisian artist who became out guide, cultural advisor, chief maker and technical assistant.
"'Cinema of Dreams' was a dream for me. I thought I knew my own Medina before, but with WildWorks I knew it better. The people, the places, the work, the arts & crafts… We were like ants, worked all day with passion and happiness along with the locals. All together catching memories of stories and events happened around that magical place.
'Cinema of Dreams' was a turning point for my life and art career, as I was younger by then and still shy and doubting my capabilities, Mercedes told me one day 'You can do it, you are a Star'. This became my motto and my 'safe sentence' everytime I feel down or doubt. I am a star, we all are.. in the beautiful sky of our dreams, which sooner or later, will become reality!"
Farah Ben Mansour, Artist
We create a space for voices to be heard
The meaning of our work develops from research, from chance encounters, from probing the feelings, thoughts, stories and memories of people.  We aim to create supportive spaces where individuals and communities may speak out and be heard, where their stories are given importance and artistic impact.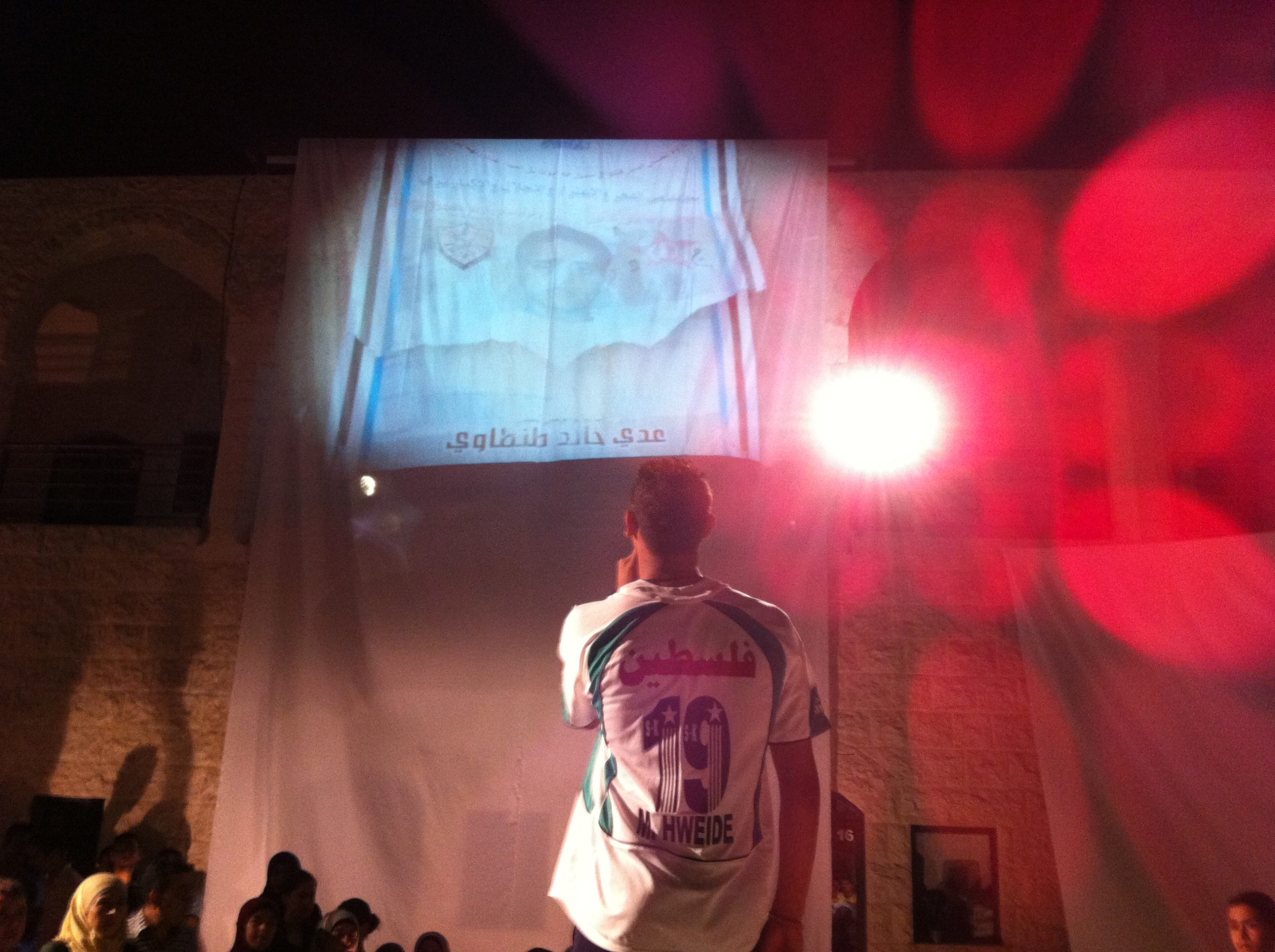 Nablus, City of Stories
Nablus, City of Stories
Our first visit to the Occupied territories of Palestine as part of the Palestinian Festival of Literature made a huge impact on us. It opened our eyes to the plight of the Palestinian people, their everyday struggles, their resilience, their capacity to endure the unendurable and their desire to be heard.
We returned to Nablus, on the West Bank, in 2013. With minimal resources and a small team, and alongside the communities of the city of Nablus and New and Old Askar Refugee Camps, we created a show entirely out of the stories we were told.
Working in Nablus was a profound experience for Wildworks. Exploring place, meaning and our common humanity has always been our aim. In Palestine we found a generous reception, endless stories, an open and positive attitude to the work, a huge wealth of talent and a thirst for self-expression and for that expression to be witnessed. They shared their stories and talents and we shared our skills.
At the end of the sharing we received many, many positive comments from both participants and members of the audience. Many commented on how the stories were their stories and they were proud to see them presented in this way. There were many comments on the way in which all art forms have been brought together to tell story. "We all know each other but we all work separately in our own fields: music, performance, story telling. It has been great to work all together, we must do it again…" said a musician. "This has involved the whole of Nablus, the Old City, the new City and the refugee camps have all come together here", said a member of the audience.
Here are some of the participants comments:
"We loved it. We got the chance to write our own drama work, to tell our own stories, to act, dance and even sing out loud our sweet memories, stories and all that we love."
"I love the idea of interpreting the environment, the old city, the history and even the normal daily life events into a drama work that simply made a difference to us. It shakes off the regularity and typical theatre conception and brings in new visions and change. The drama work treats and conveys reality in a simple yet overwhelmingly deep and effective way."
"It was the first experience for us to work with professionals in a huge performance such as the one we had. We learned many things from the theatre group. We learned how to merge the shadow theatre in other performances to create an outstanding show. "
"It was a one million dollar show because it was a mosaic of Palestinian cultural stories which reflected the kind of life in which the Palestinians live. It was a live show about reviving the stories of the past to shine and lead us to the future."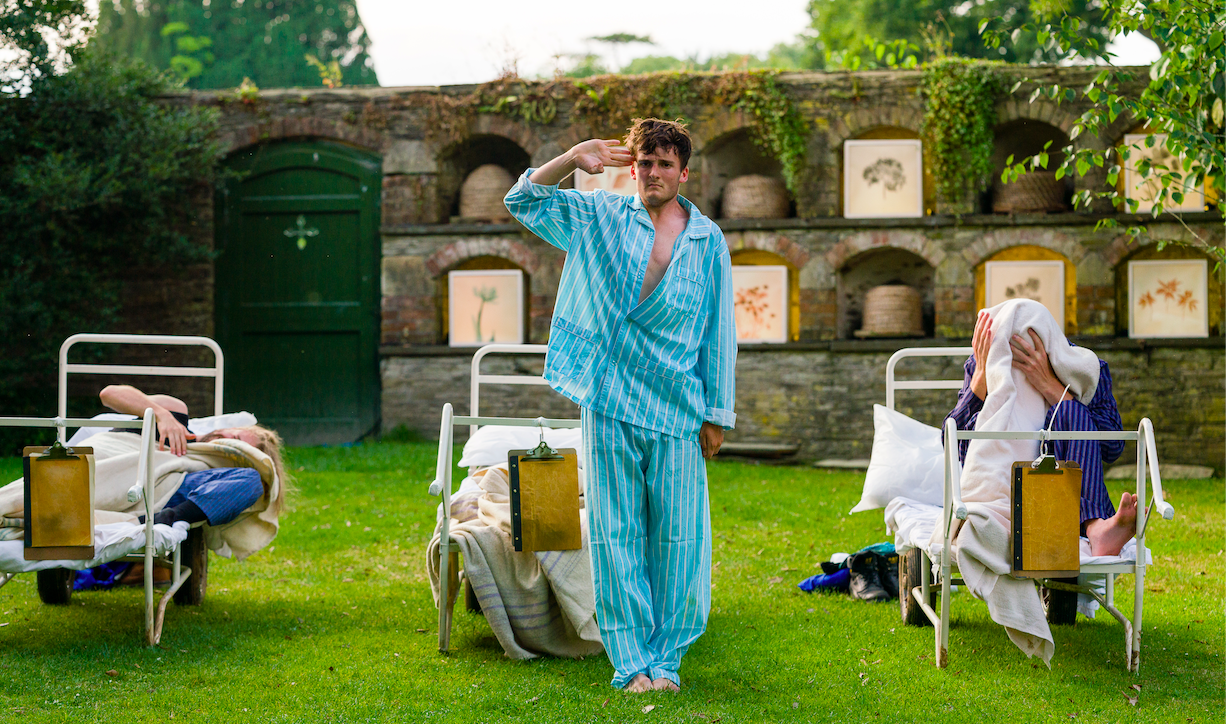 We share what we know:
As well as all the training that we do as part of specific productions, we run Summer Schools, Labs and Workshops where we share our techniques and methodologies. Participants can be professional, early career, students or simply members of the public who are interested in dipping their feet in the water. Sharing what we know is really important for us: It extends the work and increases capacity for our own and other companies and individual artists' work.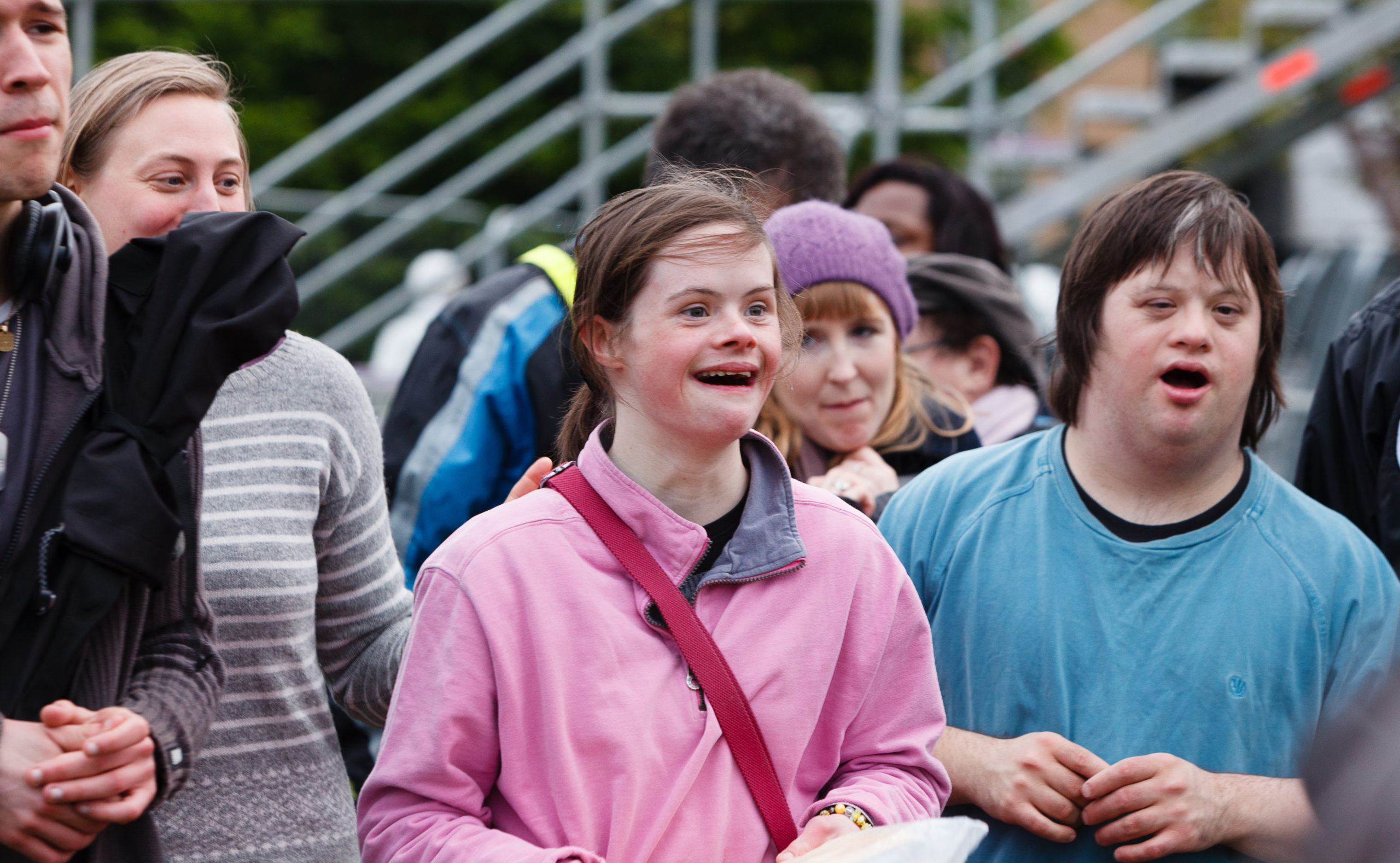 Wild Workshop, Newbury 101
Wild Workshop. 101, Greenham Common, Newbury.
In September 2019 we run a workshop at 101 Creative Space, adjacent to Greenham Common. The workshop was populated by professional theatre makers and early career artists. Here is what one of the participants, Rachel, had to say.
"A Palette of colour
On arrival to the 101 space at Greenham Common you are greeted by the concrete and containers of the average industrial park. Initially the idea of a weekend away here as a participant of a Wildworks theatre landscape workshop created bemusement and slight reticence! How will this work?
It worked like this. In every landscape there are colours, textures and curiosities. We were invited to explore these seemingly barren and beige paths and edges and look for the unseen. One of our activities was to create a small palette board and literally collect the colours of the place by seeking small objects left and discarded in the gutter alongside naturally growing flowers and weeds. This set the precedent for the weekend.
Through stories, images, collected objects and personal narratives we worked in pairs and small groups and began by making our own sculptures and stories. By connecting with others, we were guided to take themes from our work and explore them in the greater landscape on the common.
We moved through the grasses and the mounds and mud leaving souvenirs of our stories which later became a promenade performance through the place that we explored together as a group. Interweaving the history and the unseen but remembered stories of its past.
As an NHS clinical practitioner, as well as theatre practitioner, rarely do you receive nourishment, care and quite frankly – magic. The weekend Wildworks gave us, as participants, was generous in every aspect. The network of skills taught including writing, devising, observing and understanding space and resourcing place. The excellent food that we shared together, the opportunity to meet and make work as a group and alone. The laughter and fun enabled alongside reaching into emotional internal spaces that we were encouraged to then meet with the outside spaces. The friends we made and still meet with.
The weekend culminated in a piece of physical performance we made in small groups in 101 performance space. Every aspect of the physical space utilized and played with as a result of our expanding knowledge and understanding of responding to place. The work was clunky but had fun, movement and energy at the heart of it and strengthened each of us as performers and devisers.
This was September 2019. As a guide in gauging the impact on me as a practitioner, I haven't even looked at my notebook to remember what happened. It is imprinted on me and breathes on through my practice. Thank you Wildworks."
Rachel Lowden, Clinical Practitioner and Theatre Practitioner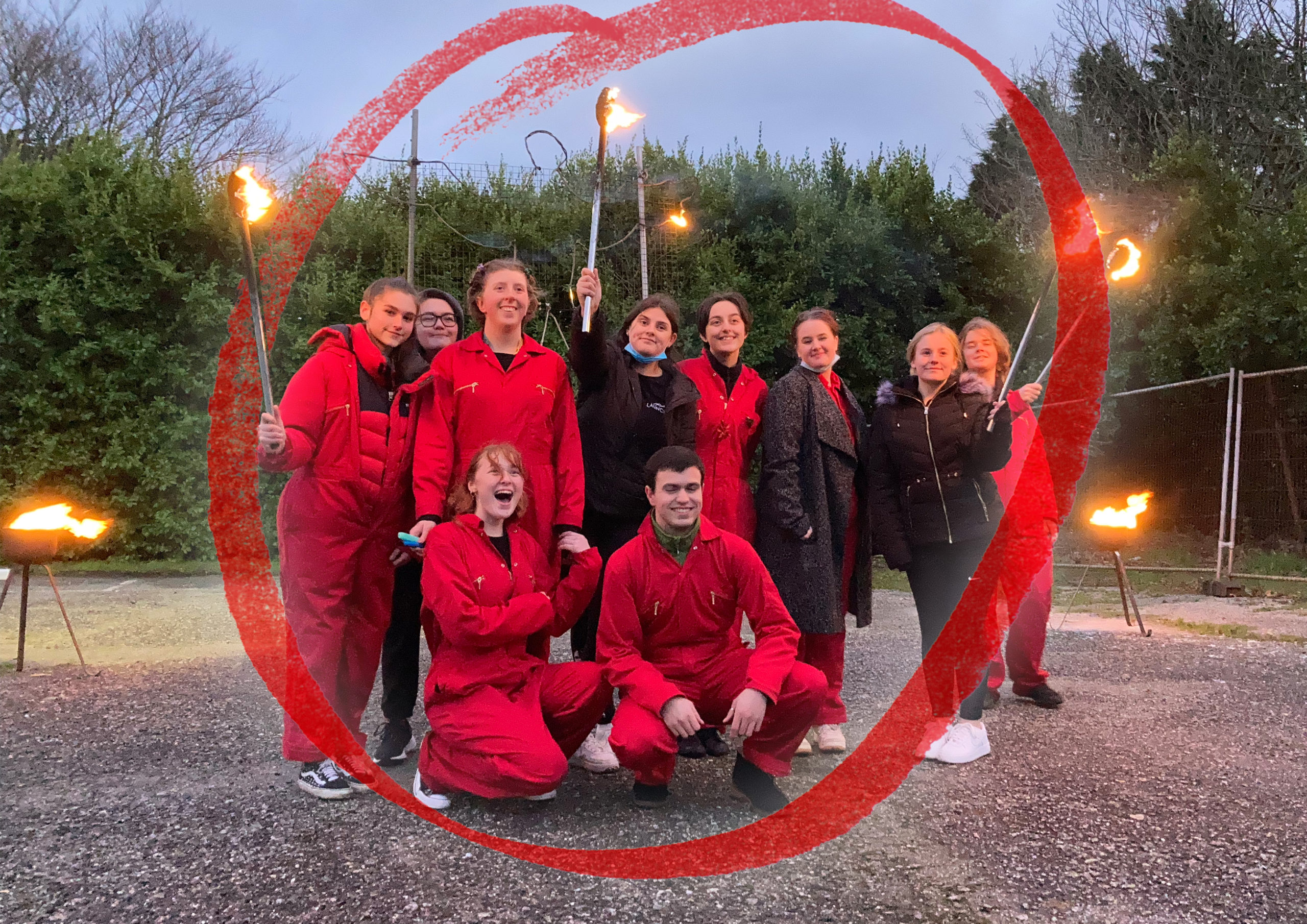 Wild Workshop, St Austell College, Cornwall
Wild Workshop, St Austell College, Cornwall
In 2021 we ran a series of Wild Workshops for young acting students at St Austell College.
Here is Carlotta-Rose's account of her experience.
"Over the last 3 months my peers and myself from Launch Cornwall College Acting have been lucky enough to complete 6 eye-opening workshops that are completely unique to anything that I have ever done before. From exploring how to use our voices (by embracing the sounds of nature whilst creating ear-chilling music too), to learning how to safely use fire within a performance (through sculptures, pathways, lanterns), and so much more!
Working closely with some of the team, being shown pictures of past shows, and hearing where those stories came from really was a game-changer for me. I am aspiring to be a theatre director and I never considered working with site specific performances but after working with Wildworks I feel extremely passionate about it. The amount of emotion, love & history that goes into these performances is just astonishing. I have always loved how theatre brings people together, but I have never known it to this scale. Communities are brought together like never before to hear true stories from their past. It's just beautiful, and it's what makes theatre one of the best things in the world for me.
One workshop that has taught me the most was when we were asked to complete an automatic writing task which included going into a room completely on your own and writing down whatever came to your mind. I struggled with this at first and I couldn't see the point. However once we had finished and I said mine aloud and I found that the way I said it was engaging and you could find meaning within it, which instantly blew my mind! At that time, we were working on our directing pieces as second years. My piece was a physical theatre-based piece based on my dad's journey through cancer; my journey through his death and a John Lewis advert that represented us in our minds. I wanted to write a poem to go with it, but I was completely clueless in where to start. After that workshop I went straight home and I thought of things that needed to be linked such as my dad, a bear (character from the advert), and pictures of winter & autumn scenes (seasons in the advert & my dad's illness). One at a time I mind mapped everything that came to mind when I saw/ thought of these things. I considered emotion, colour, physical touch, smell, and sound. After having loads of random words and sentences, I started putting two and two together. I would change certain words if I needed something to fit, and just tried to make it work until it sounded right.
My piece represents journeys so I needed my poem to do this as well. Therefore I started with the words that represented the start of my journey through my dad's cancer, all the way through to the end. I would never have been able to write this piece without that workshop. My mind was blank before, but it really opened a whole new world of thoughts and ideas so I'm extremely grateful to be lucky enough to have such inspiring advice from people I'm aspiring to be like.
Working with Wildworks truly has been an unforgettable experience. I have made countless memories in a short amount of time that I will never forget. I cannot wait until we're reunited and the excitement continues.
Carlotta – Rose Sopher
Acting Student at St Austell College
We don't leave anyone out
Wild & Free…We have made a commitment that a minimum of 5% of all our tickets will be free of charge and made available to people local to the project who would not otherwise join our audience.
Where the money comes from and how it's spent
Every project is different and where the money comes from and where the money goes changes each time.
Finding the means to make the project is as important as making the show itself (but with less interesting costumes). We price our shows carefully and never ask the audience to 'foot the bill'. If we do make a surplus, we reinvest it into the seedlings of new ideas.